Aztec Chicken Recipe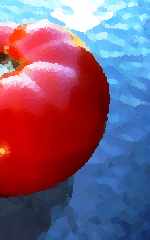 This Aztec chicken recipe is authentic, and it isn't.  The challenge with any Aztec recipe is that we commonly use many different ingredients in modern cooking.  Not only are our taste buds used to different flavours, many things that the peoples of ancient Mexico had easy access to are hard to come by, especially outside of Mexico.

So, you could say that this is a reincarnation of an Aztec meal - based on an Aztec recipe, but modernized.  It is, however, a traditional Mexican recipe.

The following chicken recipe includes some ingredients that were actually introduced by the Spanish after the fall of the empire.  Most notably - chicken!  Chicken wasn't eaten until the Spanish came - turkey meat, dog meat, and duck were all common.  Onions and garlic were also unknown to the peoples of central Mexico until the Europeans came along.

This recipe is found in many traditional Mexican cookbooks, but it was based on a recipe from Recipes from an Aztec Garden (much more than just this Aztec chicken recipe) by Kent Swanson and Veronica Iglesias de Swanson.  Also recommended if you want to try real Prehispanic cooking is Cocina Prehispanica Mexicana (Prehispanic Mexican Kitchen) by Heriberto Garcia Rivas.
The Aztec Chicken Recipe...

Ingredients:
2 lg ripe tomatoes
4 to 5 chipotle chilies
1/2 cup chicken stock
2 Tbsp vegetable oil
4 lg garlic cloves, finely chopped
1 lg white onion, thinly sliced in half moons
2 tsp ground cumin
1/2 tsp ground nutmeg
4 to 6 cups shredded cooked chicken
salt and pepper, to taste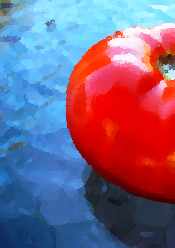 Heat a griddle over high heat until a drop of water sizzles on contact. Add the tomatoes and roast, turning several times, until blackened on all sides. Remove and let sit until cool to touch. Working over a mixing bowl to catch any juice, peel off the black skin, cut and remove any seeds. Coarsely chop into large chunks and add to a food processor or blender. Add the chilies and the chicken stock and process until coarse.

In a large skillet, heat the oil over medium high heat. When hot, add the garlic and onions; sautée 2 to 3 minutes until soften. Add the tomato chili mixture, cumin and nutmeg and stir for 3 minutes to heat. Reduce heat to medium; add shredded chicken and simmer uncovered, until, most of the liquid has evaporated, about 8 to 10 minutes. Season with salt.